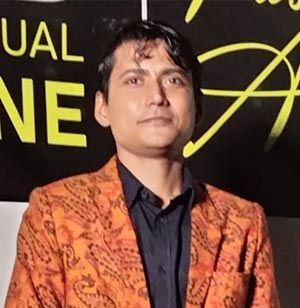 Mr. Rajiv Chatterjee
Fashion Design & Graphic Design Trainer
He has always been inspired and motivated by fashion, and he has extensive academic as well as real-world fashion industry experience in various roles and learning. He previously worked as the Creative Director for a fashion brand, alongside eminent designers and international apparel export houses. having over ten years of experience in fashion design, merchandising, computer-aided design, textiles and prints, styling, professional illustrators, and graphic design software, to name a few, before being appointed as Head of Department at BlueCrest School of Fashion & Design in Sierra Leone (West Africa).
He is an alumnus of the National Institute of Fashion Technology, which is the premier school of excellence in the apparel sector, and he is always enthusiastic about the global fashion scenario and the sustainable rejuvenation of fashion in Africa. Through the organization of creative workshops and innovative runways, he achieves the desired high standard by following pedagogy in a fun and learning environment.
Proficiency:Creative Pattern Maker, Draping Artist, Fashion Illustrator, Print Designer, Fashion Forecaster, Visual Merchandizer, Event Manager, Fashion Up cycling, Graphic Designer, Sculptor, Motivational Speaker, Critical Thinker
Graphic Software's: (Adobe Photoshop, Corel Draw, Adobe Illustrator, Adobe Animate, and Premiere Pro CC) CAD: Tuka Cad, Lectra, Modaris, Gerber Tech, etc.